The FIRST EVER liquid foundation from IT Cosmetics is FINALLY HERE!
The foundation is said to be a "facial in a bottle, in a foundation!" It is formulated to deliver oxygen to the skin and clinically proven to increase skin hydration by 71% after just one application of wearing the foundation and proven to increase skin barrier repair. The foundation is infused with anti-aging technology & ingredients, which includes peptides, hydrolyzed collagen, niacin, hyaluronic acid, grapeseed oil, vitamins A, C, & E, and special IT Cosmetics Drops of Light reflecting pigments to optically blur away the appearance of imperfections. The foundation also contains light-diffusing properties that evens skin tone for flawless airbrushed skin without settling into lines and winkles, providing sheer to full coverage which leaves your skin with a magnificent glow! We all love glow!
So, now that I gave you the run-down and story behind the foundation, lets get into the review!
The foundation felt VERY light on my fingertips. For a minute I kinda forgot it was on my fingertip! That's how light it feels.
I wanted to show you guys what it looked like just on my skin, without flash and with a flash. You can see it does look thick NOT blended
Now blended it blended VERY smoothly and honestly, kind of panicked me that it was not gonna give me that glow, cover my imperfections, look...if that makes any sense. So I applied it to my face and added in my make-up routine to get a FULL affect of the foundation and see if it lives up to its hype.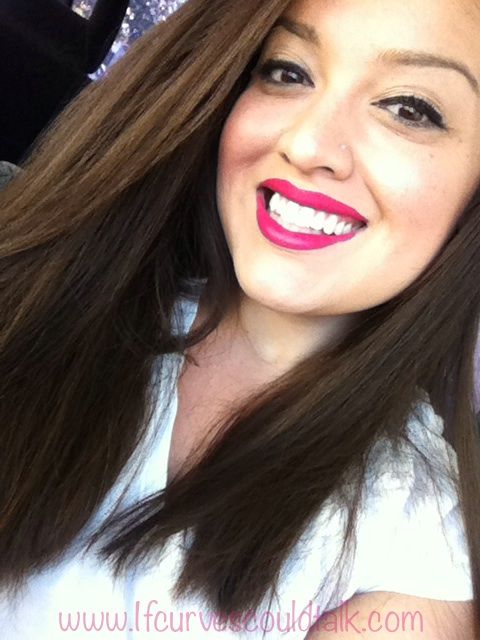 I LOVE THIS FOUNDATION! It made my skin INSTANTLY soft and felt VERY light on my face. I even forgot I was wearing it. It hydrated my skin and left it looking flawless. I did use IT Cosmetics Bye-Bye under eye concealer for under my eyes as well. If you're looking for a light, hydrating foundation, this is for you!
US residents: QVC & QVC.COM
(HERE)
Internationally in Canada: The Shopping Channel
My press kit said $35 however, QVC has it with the hydrating sponge and retailing it for $39.56
It is available in 5 different shades!
5 out of 5 stars