Hi guys or shall I say gals! I'm back with another awesome review!
As you know, I have natural curly hair, however, I straighten it. Sometimes my straight hair can get boring and I can get pretty bored with just straight hair and want those curly bouncy, elegant curls. My regular curling iron fails to do that. So when Conair gave me the opportunity to review the Infiniti Pro by Conair™ Auto-Rotating Curling Iron, I was more than excited to try this curling iron.
Before I get into the review, I want to give you the background. According to the press release:
"Conair is stepping it up with Curl Innovation. The world revolves around curls with this new hair appliance that has a unique auto-rotating clamp that holds hair and spins around to create the perfect curl effortlessly! The 1 inch barrel has a tourmaline ceramic easy-glide surface which allows for smooth, shiny, silky curls. You can create an entire head of curls or just a few accent curls. Looser, natural looking curls can be created with wider sections of hair, or you can amp up the sexiness by stopping the rotation a few inches from the scalp. The newest technology makes it simpler to clean off styling product residue and hair glides easily over the surface as you're curling. The barrel has bi-directional rotation, and the no-slip silicone strip allows for deep shine. There is less damage and zero hot spots. This amazing tool has two unique high-heat temperature settings that provide styling versatility for all hair types reaching 400°F on high heat. It has 30-second heat up and evenly distributes heat so that the style you create has a salon-perfect, silky smooth, shining finish."
I was excited just reading the press release. I never tried a rotating curling Iron before, have you? Anyways now on to the fun!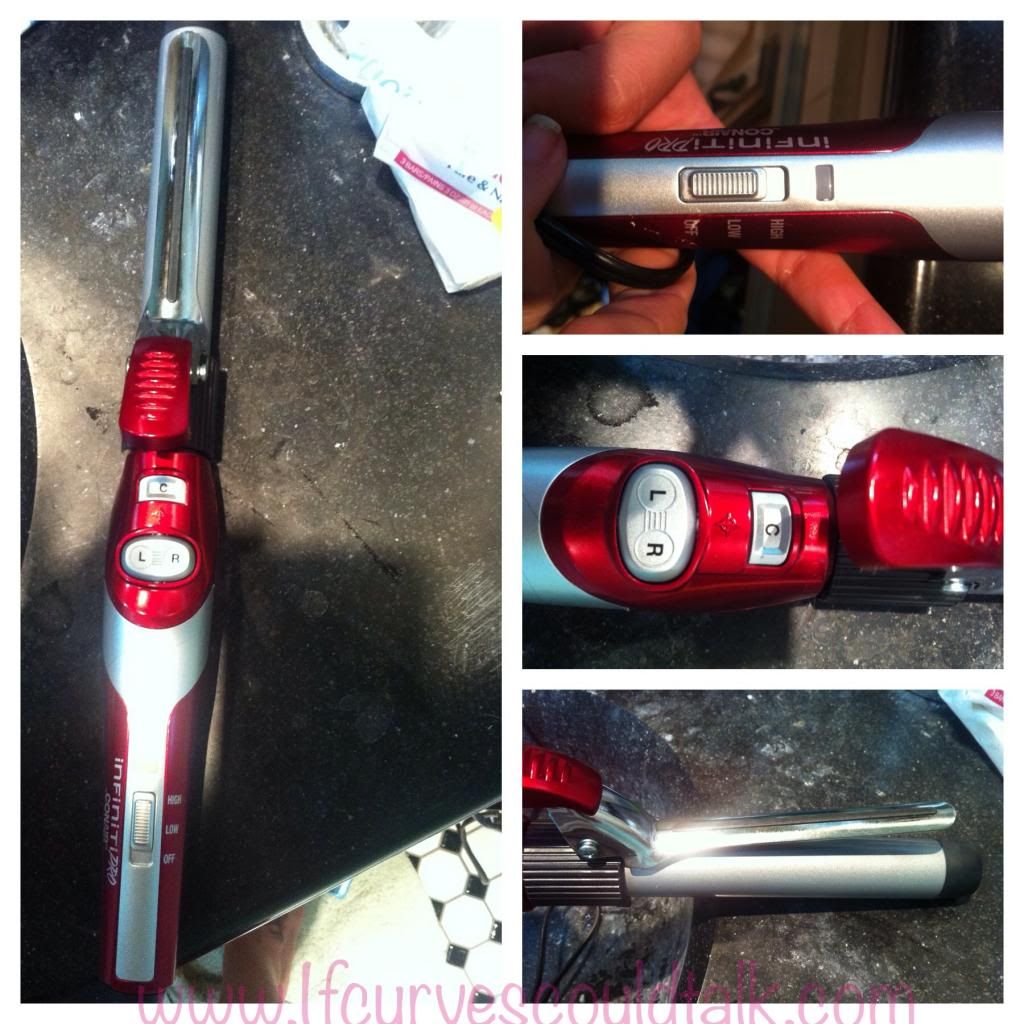 So here's an overview of the curling iron. Comes in two settings (high & low) , Has the buttons to rotate the barrel to your left or right and above that a button to do a complete circle. This is unlike any other curling iron I have had before. In fact, way different and very innovative!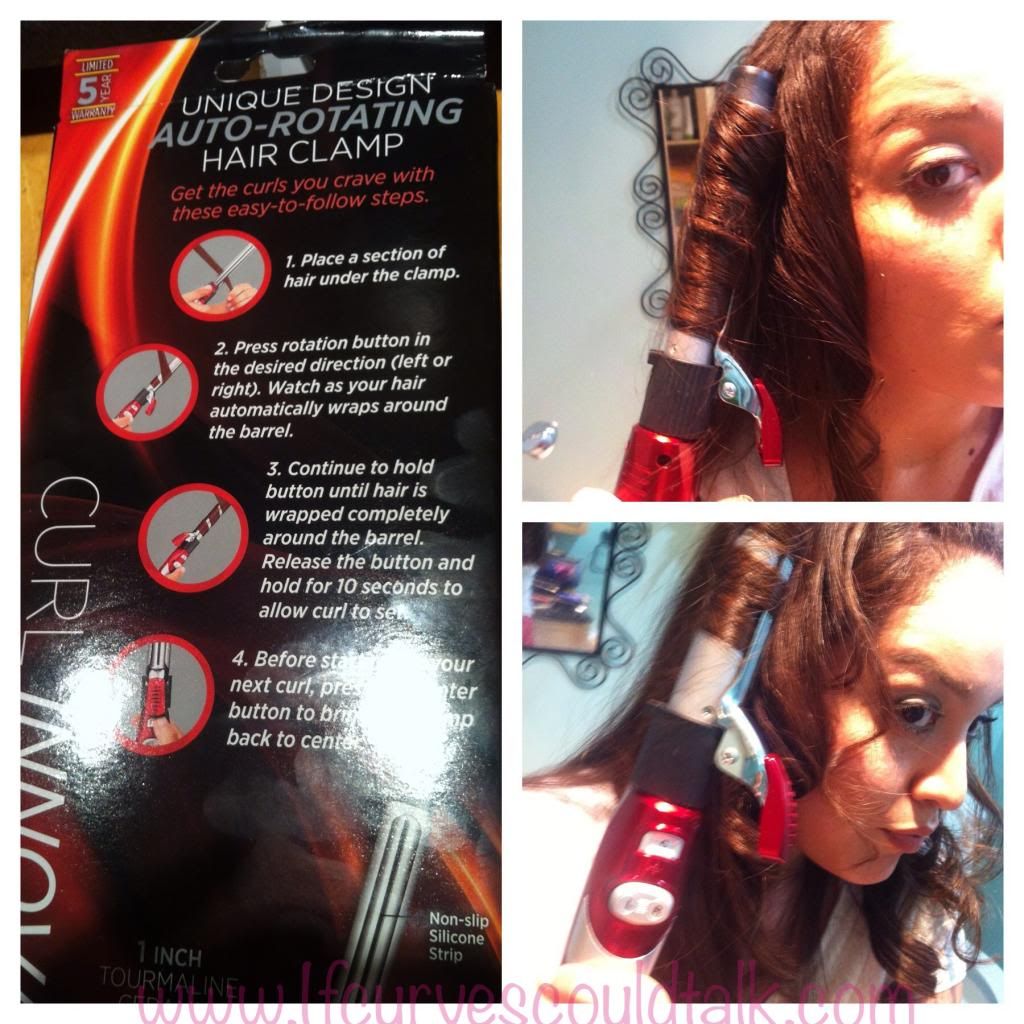 So as per instructions ( shown above) I did as it told me to do. I had to get used to it because I have never used a curling iron like this. I got confused with the rotation of left and right, but that's only because I am REALLY bad at confusing the both sometimes. Lol. I was amazed that it was effortless to use and stayed true to its word. It heated fast and was really easy to use!
So what was the outcome?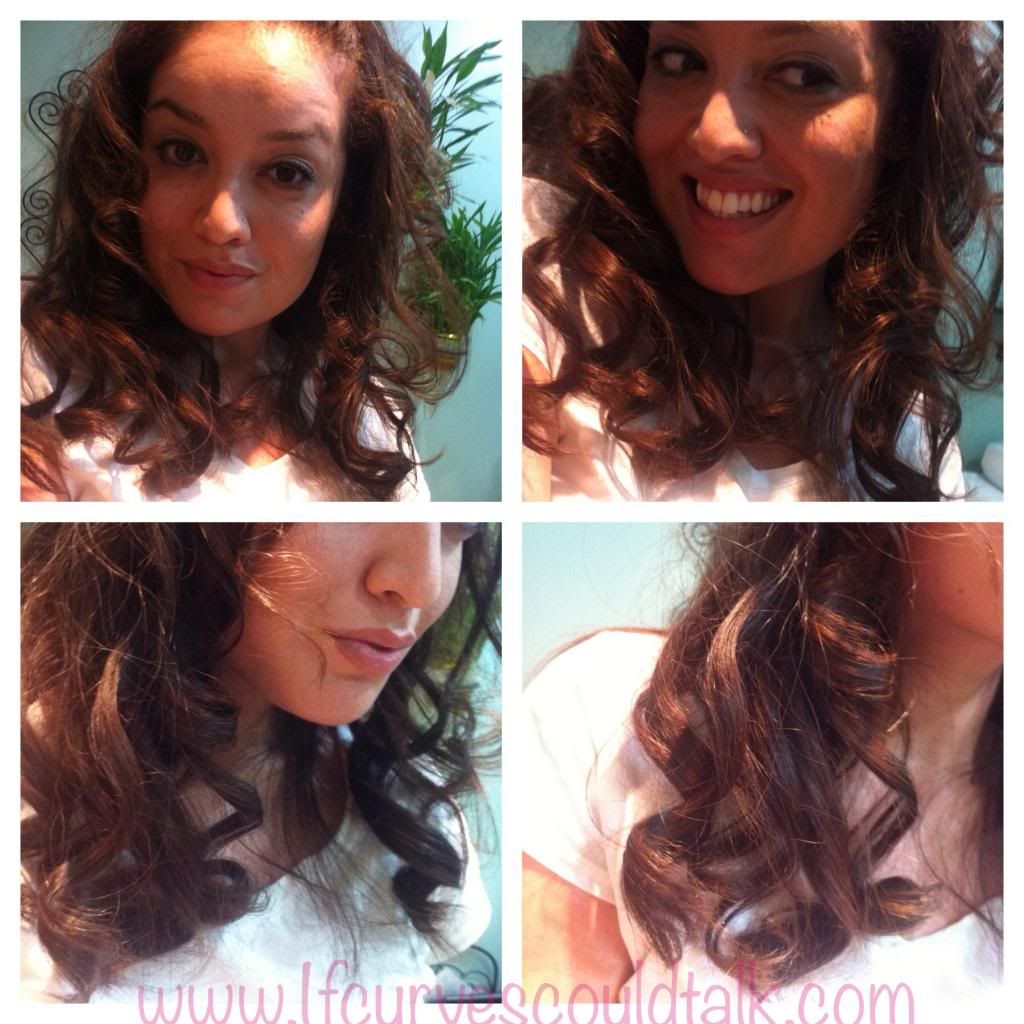 I really LOVED my curls! They stayed and it took only 30 minutes t do my hair with the rotating barrel! Any other curling iron would have taken me an hour!
OVERALL EXPERIENCE & THOUGHTS
I loved this curling iron. It really did make curling my hair easy and gave me any kind of curl I wanted. From lose to tight curls, this curling iron did an amazing job at staying true to its word. I just love this curling iron.
WHERE CAN YOU PURCHASE IT & HOW MUCH?
The Infiniti Pro by Conair Auto-Rotating Curling Iron is available nationwide at mass market and drugstore retailers, as well as at
www.conair.com
, for an average retail price of $94.99.